Experience Oita Through
"Bamboo Tourism"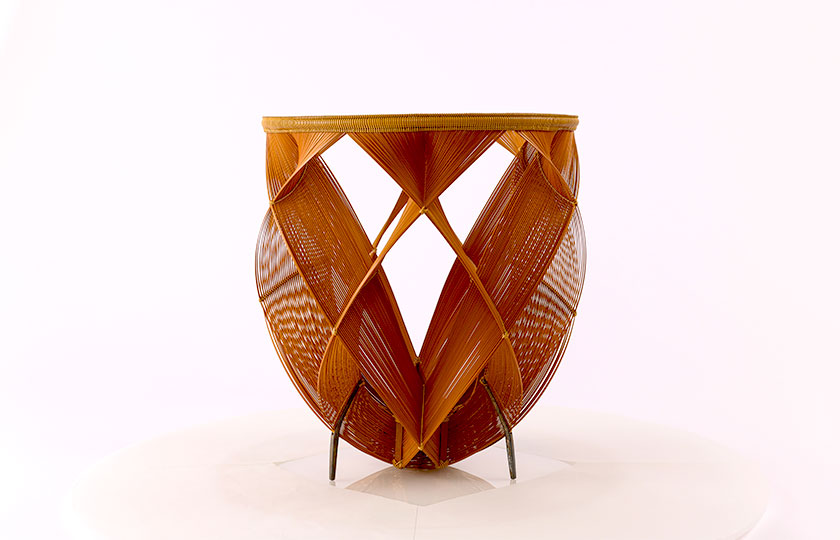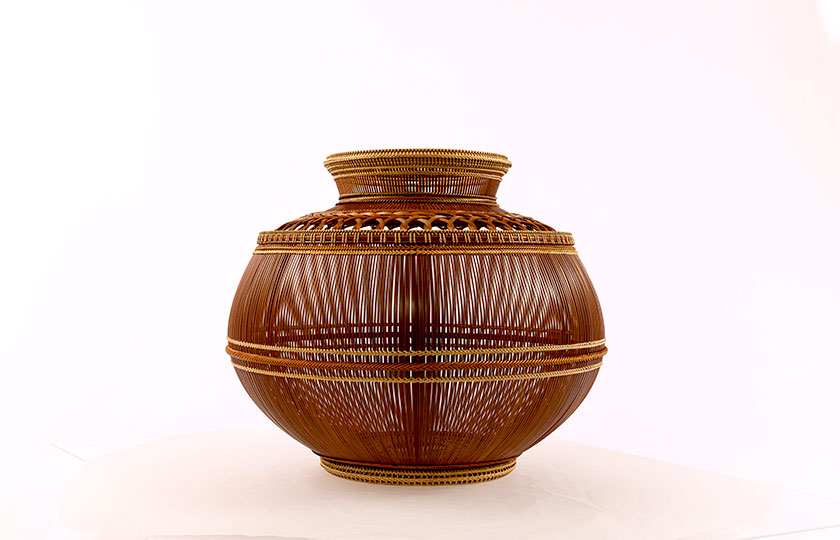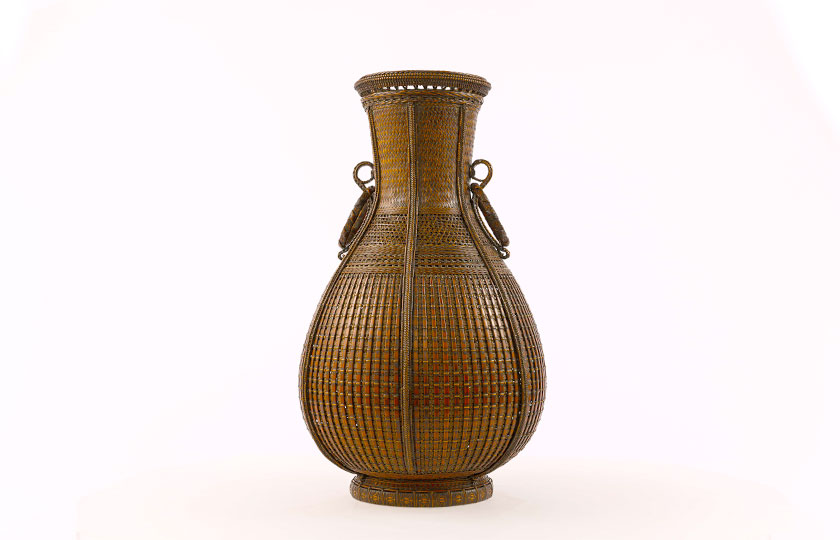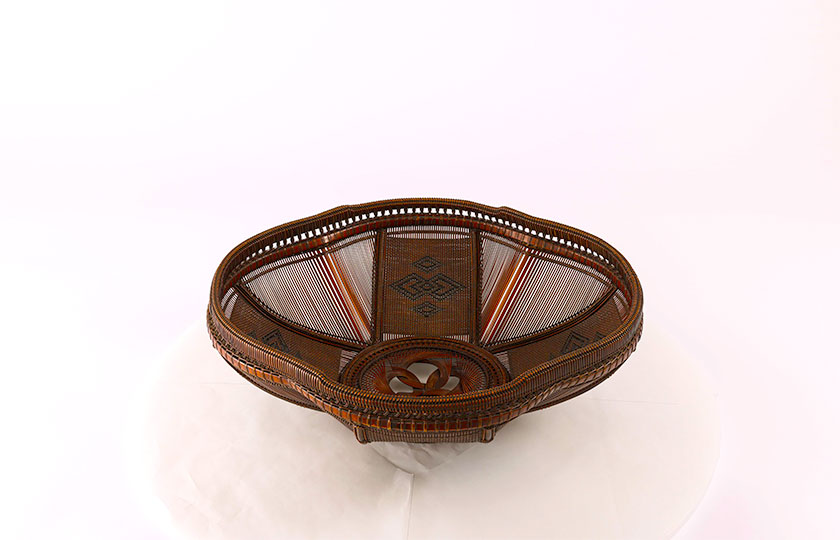 The design adorning the facade of the Oita Prefectural Art Museum features a traditional bamboo craft pattern called yotsume kuzushi ("four-eyed simplified")In Oita Prefecture, the top producer of bamboo in Japan, Beppu bamboo craft evolved as tools and souvenirs for those visiting Beppu Hot Springs, one of Japan's premier hot spring resorts since antiquity. Among the artisans devoted to this craft in Beppu eventually emerged Shounsai Shono, the first bamboo craftsman to become a Living National Treasure. The prefecture is now home to internationally renowned bamboo artisans who use bamboo in everything from crafts to high-end flower baskets, architecture, and modern art.
The distinctive sculptural beauty of bamboo crafts made from invigorating bamboo forests. Works of art brimming with an aesthetic and sensibility unique to Japan delight the eyes at a place where you can meet bamboo artisans and participate in workshops.

High-resolution images let you take time to enjoy bamboo crafts interwoven with the culture and history of Oita Prefecture.
Works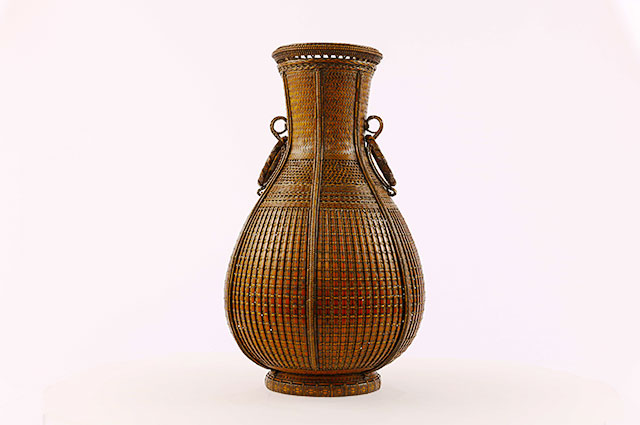 Shounsai Shono "Flower Basket, Shitatare-Ami (Weave),
Ancient Style" 1925
This piece was created by Shounsai Shono during his second year of training as a bamboo craftsman at the age of 22. The oldest Shounsai flower basket in existence, this piece belongs to a genre called karamono ("Chinese goods"), which imitates ancient Chinese bronzeware. The uninterrupted form of the body, made with the shitatare weave and several other elaborate weaving techniques, serves as a testament to Shounsai's unparalleled technical prowess.

The inscription on the bottom of the flower basket reads "Made by Mujakusai", and Shounsai claims that the concept of this work came to him in a dream.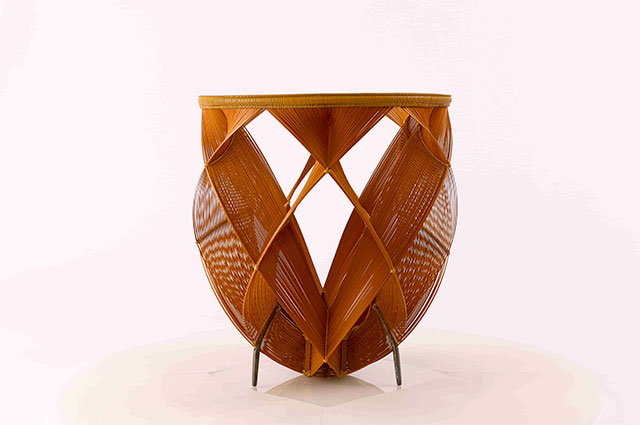 Shounsai Shono, "Kagero
(Heat Haze)"1958
Starting in the 1950s, Shounsai began focusing on form over function in the craft, presenting a series of sculptures composed of thin bamboo strips that received high acclaim.

This is a typical piece from this era, where long, delicate strips of bamboo are layered to form a polyhedron reminiscent of cut glass. Rows of glossy strips overlap to produce an effect resembling the wavering of air rising from the heat and the interlacing of prism-like light.
Shounsai Shono
(1904-1974)
Shounsai Shono was born in the city of Beppu. His real name is Akihira. He began studying under Chikuyusai Sato, who exhibited at the Paris Expo and other events as a high-end basket artisan, in 1923. After two years of training, he began working independently as a bamboo craftsman under the pseudonym Mujakusai Rakuun. His work was first selected for the Houshukuten Exhibition, which would become the Japan Fine Arts Exhibition, in 1940, then was selected several years in a row before receiving special selection that did not require screening for his work "Shinkafu (Ode to the Floral Heart) Basket" in 1943 at the 6th Shin Bunten Exhibition.
At the Japan Fine Arts Exhibition (JFAE) in post-war Japan, he began focusing on form over the conventional function of the craft, creating products using his distinctive "comb pattern weave".

In 1956, he received the Hokuto Award at the 12th JFAE, the Special Award and the Hokuto Award at the 13th JFAE in 1958, becoming a judge in the same year and a member of the committee the following year. He exhibited his work at the Japan Traditional Kogei Exhibition in 1965 and was certified as the first holder of an important intangible cultural property in bamboo craft in 1967. Shifting from the delicately crafted pieces of his early works to a more sculptural style, then to work expressing an even simpler beauty, Shounsai served as a pioneer in the world of bamboo craft and devoted himself to its evolution as an art form.